Happy Hauntings Everyone!
We are releasing our October Sitrep a bit early so we can get you an update on everything we have been working on. We didn't release a September Sitrep because our focus was on getting the patch 1.8.10 launched. However, after evaluation of the feedback we received from players and our own QA testers, we decided to give Update 1.8.10 a bit more time in the oven to tackle some community needs including a big focus on the overall performance of the game. Taking on this work has shifted priorities across multiple departments and changed estimated release times on some of the features we previously stated. For more details on the current feature schedule please keep reading.
From the Dev's Desk
With the concerns surrounding the frame rate and performance that were brought up when reviewing Update 1.8.10, we wanted to make sure we took the time to listen and investigate the concerns the community had. The team has taken the time and is working hard on improving these issues. Here is a deep dive from our lead programmer:
Hello everybody, I'm the lead programmer on Onward, and I want to share some insights into our recent programming work. Today, I'll be going over our issue with the frame rate of Onward and why we're taking extra time to improve it. To the dismay of our community manager, this is a larger technical topic so I have broken it up into a few different parts that you can jump to.
What does frame rate mean for Onward?
First, frame rate is very important when it comes to VR as lower frame rates can make you feel sick because your movements in game don't match your movements in real life, throwing off your balance.
One of our main goals in Onward is to make sure that you, the player, feel comfortable while playing the game, so you can keep playing until you want to stop instead of when you have to stop from nausea. We have spent a lot of time on our systems to prevent motion sickness. For example a lot of design went into making sure the movement system doesn't throw you off balance. Frame rate plays a key role in your comfort and therefore earns priority at the top of our development to-do list.
Why has Onward's frame rate decreased?
The main reason our frame rate decreased over time has been the addition of new features and large changes. New features almost always come with an additional cost to run, so this extra cost needs to be offset with additional performance improvements in other areas of the game.
What are the steps to begin improving Onward's frame rate?
To improve the frame rate in Onward we have had to tackle the problem from several different directions. Our starting point is to profile the game. In the code we can identify code that is taking too long to run, code being run too frequently, and code that is high impact because it runs all the time.
After we've identified the problem areas in the code we can go through and try to improve them. We generally start with trying to improve performance by simplifying code and caching data for quicker retrieval. If simplifying the code and caching aren't enough, then we have to take more drastic approaches such as replacing the code faster or removing functionality. Removing functionality is a last resort.
What have we been working on to improve Onward's frame rate?
I'll provide a few examples out of the many parts of code we worked on during the performance improvements instead of going into more general explanations of how to approach performance improvements.
First, our projectile system was creating new bullets instead of reusing pre-existing ones in situations with heavy gunfire. The creation of new objects is expensive, so to prevent this we try to create objects before we need them. When we create objects we try to hide the frame rate drop they cause with loading screens. We then try to reuse the objects when possible as reusing is much cheaper than creating.
Another one of our major wins was bringing in a new system to turn off objects that could not be seen so we were rendering fewer objects at any one time. The system used for this is called occlusion culling. We had been using a Unity occlusion culling system which was expensive on the CPU and sometimes cost more performance than it saved. To fix this, one or our programmers wrote a new occlusion culling system that runs really quickly at the cost of extra memory usage over CPU use. This helped bring down costs on both the CPU as it had less calculations and the GPU as it now has fewer objects to render.
The examples above just scratch the surface of the work that has gone into the performance improvement work but we hope give you a glimpse of what goes on behind the scenes.
Until next time, here is a fun bug QA caught that was caused by an optimization to the bipods.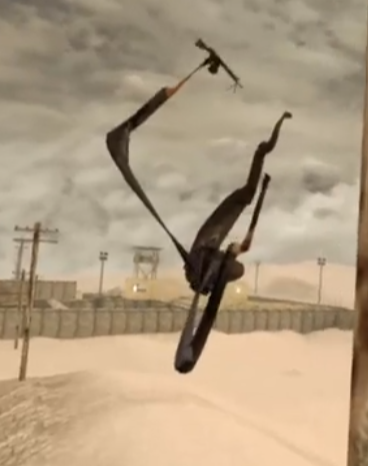 In addition to the performance improvements, the extra dev time gave us the ability to include the return of bHaptics to Quest users in 1.8.10. This feature is currently in testing and is looking good to return sooner than we previously stated. Also expect major bug fixes such as Abandoned spawn locations, AI walking through walls on several maps, and updates to spectator mode.
Turbine Day and Night will release with 1.8.10. Some changes including spawn points and environment adjustments have been made to the map based on feedback from our Unit51 playtests. Previous images may not reflect some of these changes, but we will be showing off Turbine on our social media soon.
We continue to work on the two new weapons and the gun stock calibration we mentioned in our August sitrep. If everything lines up, we are trying to have them included into the 1.8.11 Update. Update 1.8.11 was originally slated to include AI animation improvements, but we're working hard to get more animations included. We'll keep you updated as we continue to work toward this future patch release.
Our long-term development goals remain unchanged. These projects include the Party system, Friends system, and AI gameplay improvements.
Community Center
Last Thursday we launched our Onward Community Clips contest. We're excited to see your creativity and the different ways you enjoy the game. There are prizes for multiple categories and themes in the contest. For all the details on categories, prizes, and official rules for entry, check out the details here.
Custom maps are back and new ones are now available, which leads us to this month's community member spotlight. Tatoskok has submitted two new amazing maps for the month of October, one of which is perfect for the October spooky season.
Graveyard, by community member Tatoskok
MARSOC SIGINT intercepted Volk communications coming from a remote region of Transylvania. A permanent layer of dense fog obscures satellite imagery requiring aerial drones to provide coverage. Prepare your fireteam for impaired visibility and perform a reconnaissance to discover what the Volk cell is hiding. The region is well known for roaming packs of feral wolves.


The Streets, by community member Gridder
A recent attack in NYC by Volk has caused major chaos all around but the city has been put in lockdown. Due to the area the only way to counter this is to send a MARSOC to deal with Volk in pretence of being national guard.

That's the Spookiness for this month, Stay Frosty!